Victorian Premier's Design Awards Showcase – Celebrating 25 Years of Design Excellence

17.03.2022 – 26.03.2022
The Victorian Premier's Design Awards Showcase for the first time shines a spotlight on a quarter of a century of award-winning design in Victoria. Established in 1996, these awards have recognised and rewarded Victorian designers and businesses that display excellence in the way they use design. The exhibition explores through five themes: THEN, WHO, HOW, NOW and NEXT, the designers, their design practice, the outstanding work and its impact, not just here in Victoria, but on a global scale.
The Victorian Premier's Design Awards Showcase – Celebrating 25 years of design excellence is curated by Ian Wong.
Participants
Ian Wong is an award winning designer, collector, curator and senior lecturer at Monash University.
Ian has been invited to curate exhibitions about his research on Australian Design in; Milan, Beijing, Hong Kong, Tianjin, Suzhou,Sydney, Adelaide, Launceston, Melbourne and his home town of Shepparton. Exhibitions have included EVERYDAY Australian Design, 100 Objects | Australian design in the home, I-CONIC Australian Design, 60 Years of Good Design, BlackBOX – Design and Innovation | Melbourne Australia, Innovators – Australian Design and Innovation, Zmood – Designing Holdens, and 150 Years of Design in Victoria.
The Ian Wong Collection has been a work in progress associated with his research and currently has over 2100 objects designed by Australian designers.
Products designed by Ian as a director of EJO Design have ranged from one-off objects like the RMIT University Ceremonial Mace to brain scanning equipment, Antarctic sleds, and million-dollar high-speed agricultural sorting equipment. Ranges like the pak range for Silvan Australia have recently been reported as the 'hills hoist' of rural Australian farm life. This range continues to create significant commercial success for Silvan. Ian's first product for Silvan, the trukpak, designed in 1989, is still a very successful product and most farms in Australia would have a product designed by Ian.
Ian is currently Director of the Monash Art Design and Architecture Industrial Design Centre (Kunshan) and  Program Director – Master of Industrial Design at Monash Art Design and Architecture, Monash University. This double Master's degree is delivered at the Southeast University-Monash University Joint Graduate School Suzhou in China.
In 2021 Ian was awarded a GOOD DESIGN AUSTRALIA – GOLD AWARD for Design Research.
Ian is President of Melbourne Movement and the China representative and Fellow of the Design Institute of Australia.
Creative Victoria is the state government body dedicated to championing, growing and supporting Victoria's creative industries. We invest in the ideas, talent, organisations, events and projects that make Victoria a creative state.
The creative industries encompass disciplines as diverse as games development and graphic design; fashion and film-making; independent theatre and industrial design; comedy and craft. They include activities that are commercially-driven and community-based, experimental and export ready, and everything in between. Collectively, these industries contribute $22.7 billion to Victoria (or 8% of the total economy) and they contribute immeasurably more in terms of social and cultural value.
In bringing together these diverse but interconnected sectors, Creative Victoria fosters new opportunities for innovation, collaboration, cross-promotion and economic growth, both across the creative industries and in the broader community. We work to raise the profile, reach and impact of Victoria's creative industries, support the career development of local artists and creative professionals, and ensure that all Victorians benefit from creative and cultural opportunities – from school kids to diverse communities to businesses.
Creative Victoria also oversees the state's major creative and cultural organisations, collections, and facilities, valued at $7 billion, ensuring that that these rich assets can be enjoyed by all Victorian people as well as visitors to the state.
Presented by Creative Victoria as part of Melbourne Design Week.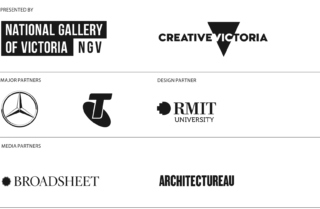 Melbourne Design Week and the Victorian Design Program are initiatives of the
Victorian Government
. The NGV Department of Contemporary Design and Architecture is generously supported by the
Hugh D. T. Williamson Foundation
. Creative Victoria and the NGV acknowledge the traditional owners of the land on which Melbourne Design Week programs take place, and pay our respects to their elders past and present.
Mon-Fri 10am-4pm
Sat-Sun 11am-4pm
📍 RMIT Design Hub Gallery, Project Room 2, Corner of Victoria and Swanston St, Carlton VIC 3053