RMIT Design Hub Gallery exists to ask questions about design's role in the world today. Through exhibitions, conversations, performances and publications, we explore the process of design – making space to imagine, test and risk new ideas together.
Founded within RMIT University, the Design Hub Gallery has its roots in the city and in research practice. But most of all we are a public place, a zone for exploration and a platform for exchange, locally and internationally. We are an open space for discovery, questioning and experimentation.
RMIT Design Hub Gallery acknowledges the people of the Woi wurrung and Boon wurrung language groups of the eastern Kulin Nations on whose unceded lands we work.
To receive updates on our exhibitions and monthly editorial newsletter, subscribe here.
RMIT Design Hub Gallery is part of RMIT Culture.
RMIT Culture brings together the university's cultural spaces, creative programs and art, film, design and research collections, providing valuable support for the university's learning and teaching activities and opportunities to inspire creativity and collaboration. By showcasing and expanding RMIT's cultural assets through new initiatives, RMIT Culture helps facilitate a University-wide approach to cultural engagement.
At the top of the Design Hub forecourt is an installation by landscape architecture and urban design practice Openwork. The project was commissioned by the University with the brief to provide a visual and physical deterrent for vehicles entering the building's plaza space at speed from adjacent streets. Skeptical of the message that bollards transmit about permission in public space, Openwork proposed a land-form instead of a bollard that doubles as seating for students and passersby. The form is a 1:1 copy of the deliberately imperfect circle paving motif on the existing plaza. 
Read more about the project here.
RMIT Design Hub Gallery is COVIDSafe
We look forward to welcoming you to Design Hub Gallery!
The Victorian Government announced changes to COVID settings which came into place at 11:59pm, Friday 22 April. To ensure continuity as we fully assess the changes, and the implications for the RMIT community, RMIT will retain its vaccination requirements until further notice. All students, staff and visitors must continue to be fully vaccinated against COVID-19 or hold a valid medical exemption to attend any RMIT campus or facility.
We will review our vaccination requirements in the context of the most current government orders, community feedback and public health advice, to determine what vaccination requirements will be in place in future.
All people entering Design Hub Gallery who are over 16 years of age will be required to show one of the following upon entry:
Your vaccination status via the Service Victoria app on your smartphone
A printout of your MyGov COVID-19 Digital Certificate or an official Immunisation History Statement
An official medical exemption. Details on proof of valid medical exemptions can be found below.
Without one of the above, you will not be able to enter Design Hub Gallery.
To make things as easy as possible for you and for our staff, we ask that you please link your COVID-19 digital certificate to the Service Victoria app before your visit to ensure a quick and efficient entry process. We ask that you please be patient and courteous with our Front of House staff who will be facilitating this process. Read how to link your COVID-19 digital certificate to the Services Victoria app.
For the safety of other visitors and staff, we strongly encourage visitors to maintain at least 1.5m distance between yourself and others, and mask-wearing is strongly encouraged.
If you are feeling unwell, please do not visit Design Hub Gallery.
Other measures in place at Design Hub Gallery include enhanced cleaning throughout the gallery and hand sanitiser on offer.
For more information, visit www.rmit.edu.au/covid/
Tuesday to Friday

11am – 5pm

Saturday

12.30pm – 5pm

Sunday and Monday

Closed

Closed Public Holidays
Level 2, Building 100, RMIT University
Corner Victoria & Swanston Streets
Carlton, Victoria, Australia 3053
Entry to Design Hub Gallery
via the Victoria Street forecourt
Gallery located below street level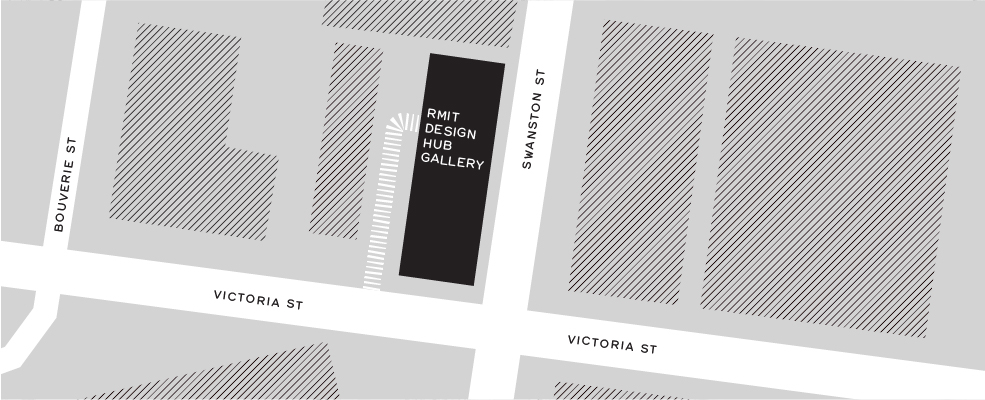 Accessibility
Design Hub Gallery welcomes all visitors and is committed to making our exhibitions and programs accessible to everyone.
Wheelchair Access
Design Hub Gallery is wheelchair accessible and there is a disabled parking space just outside on Swanston Street. The gallery is located on level 2, one floor down from street level. Please note street level in Building 100 is level 3.
You can enter via the lifts on level 3 just inside the buildings main entrance at the corner of Victoria and Swanston Streets or via the Victoria Street ramp.
Wheelchair accessible bathrooms are located on street level and within the gallery itself. The gallery is an open plan space, with no stairs or elevated areas.
Guide Dogs
Guide dogs are welcome at Design Hub Gallery.
Hearing Loops
Hearing loops are available in both gallery spaces.
Blind Or Low Vision
All wayfinding signage in the gallery spaces include Braille and raised letters.
Contact Us
General information: hello.designhub@rmit.edu.au
*Please note that Design Hub Gallery is not available for event hire, photoshoots or exhibitions that have not been selected through our annual program call-out. If you are interested to apply, please sign-up to our mailing list for future alerts.
Volunteer
Volunteer applications are currently closed.
Gain valuable skills, develop new networks and expand your knowledge in a broad range of design fields.
Volunteers play an important role at RMIT Design Hub Gallery; they are the public face of exhibitions and assist with the day-to-day running of our public spaces.
Volunteer Responsibilities
Assist with the delivery of public programs
Greet visitors and provide directions
Provide visitors with information about Design Hub Gallery and specific exhibitions and programs
Invigilate
Maintain the public spaces
General event operations support (some out of hours)
Administrative duties as required
Time Requirements
The program requires availability of at least one three hour shift per week for the duration of the exhibition (Saturday 7 March – Saturday 9 May).

Shift times are:
Tuesday – Friday: 11am – 2pm / 1 – 4pm
Saturday: 12 – 3pm / 2 – 5pm
Benefits
Skills development
Networking
Written references where appropriate
Design knowledge
Invitations to openings and special events
To apply, please email the Volunteer Registration Form, your resume and weekly availability the Curatorial or Operations Assistant
Apply
Applications are currently closed. 
Design Hub Gallery encourages the public presentation of creative, practice research at all phases of development. Expressions of interest are accepted from researchers, practicing designers, organisations, curators and others engaged in creative practice research.
The EOI is part of a two stage process. We are looking for concepts for ongoing collaborative development. All applications received will be initially reviewed by the Design Hub Gallery Program Advisory Network.
Before completing the application form please discuss your proposal with the Design Hub Gallery curators.
Eligibility
RMIT Design Hub Gallery accepts proposals from all those engaged in creative practice-based research, including:
The RMIT design community including staff, design researchers / students, alumni
The wider design community in Australia and internationally
Application Process
Please complete the online Expression of Interest form which involves:
An outline of your exhibition concept (up to 200 words)
Consider the following questions:
What issues/ideas/research questions are you exploring in the exhibition?
Why do you want to exhibit at RMIT Design Hub Gallery and how will our remit to exhibit design research be a useful/important context for the exhibition?
Who is the intended audience for the exhibition?
A description of the exhibition design and/or how the project will be displayed (up to 150 words)
Consider the following questions:
What will be included in your exhibition?
What will your exhibition look like physically?
If you would like to supply a scaled drawing of your proposed project in situ, floor plans and specifications of the available spaces can be downloaded from our website.
A (maximum) half page CV or bio for each participant in the exhibition.
Support material.
Please submit up to 10 captioned images (incl. diagrams & sketches), and no more than 5 minutes of video or audio relevant to your proposal.
Your preferred dates (please keep in mind that Design Hub Gallery is open Tuesday to Friday 10am– 5pm and Saturdays 12 – 5pm).
A brief budget.