Post Digital Objects

17.03.2022 – 26.03.2022
Post Digital Objects is an exhibition and series of events exploring the future of digital data, memory and healthfulness. The exhibition showcases material artefacts and creative processes to give insights into the research and development possibilities for designing meaningful hybrid objects for health and wellbeing.
Building on the Data Heirlooms creative practice research collaboration between Emma Luke, Chuan Khoo, Kate Geck and Dr Judith Glover, the exhibition is an exploration of speculative possibilities and new territories for post-digital design practice and the internet-of-things (IoT). Drawing from the designer's collective backgrounds in product design, jewellery, interactive art/design, electronics, ceramics and textiles, the works are realised through bespoke microelectronics, jewellery fabrication, generative design, 3D printing, digital textiles and augmented reality. These projects explore the potential for objects at the intersection of the digital and material to become part of meaningful human narratives. By foregrounding preciousness, personalisation, and longevity it seeks to 'make good' digital objects that foreground holistic, ethical and sustainable ways to interact with future IoT objects for health and wellbeing.
Located at the RMIT Design Archives the exhibition forms the backdrop to a series of panel discussions to contextualise how to design within a new ethical paradigm – 'how to make good'. Through bringing together the Wearables and Sensing Network (W+SN) and industry experts we seek to facilitate conversations and foster new connections between designers, technologists and researchers to promote collaborative capabilities and explore how design can positively transform our ways of life in a post-digital future.
Join the creators of the Post Digital Objects exhibition for a discussion about the work on Friday 25 March, 2 – 4pm at the RMIT Design Archives. Booking required here.
Participants
Emma is a designer/maker and academic at RMIT University. With a background in jewellery and watch design she is currently completing a PhD focused on aesthetics and post-digital wearables. Passionate about ambient interventions that challenge digital obsolescence, and the loss of lasting cultural narratives Emma's work explores the encoding of value through; data, materiality, aesthetics, and personalisation to inform the development of holistic wearables for health and wellbeing.
Kate is an artist interested in network culture, who is working in Narrm/Melbourne on unceded Wurundjeri land. She works with code, installation and textiles to create augmented surfaces and interactive experiences. Her practice-based research is focused on ways to materialise the seemingly immaterial nature of data and networks. Invoking the language of the internet, her glitch and emoji laden aesthetic critiques a hyper-mediated age, creating sites of respite and resistance that think through alternative agendas for networked technologies.
Judith is a researcher, educator, and Industrial Design practitioner at RMIT, Melbourne, Australia. She is currently exploring the possibilities for new design research, service, and product innovation under the umbrella of Design and Sexual Health Innovation (Dashi) This involves cross-collaborative research between Design, Engineering and Health fields. She is the co-director of the Wearable and Sensing Network at RMIT University and is interested in developing holistic models of Meditech and Wearable tech Innovation that brings Design methodologies and User-Centred principles to the early stages of technological and product innovation.
Chuan (MFA RISD, PhD candidate RMIT) is an artist, designer, and educator. Key to Chuan's creative practice is his multi-disciplinary media background, in particular interaction design, electronics, and digital media, as seen through a critical design lens. Working across both design and art, his practice reflects a necessary dualism that interrogates the twin edges of technology – the darker side of its velocity and the ethereal nature of digital ties that may not bind. A learner and educator at heart, Chuan has 15 years of teaching experience across Interaction and Experience Design, ubiquitous computing and electronics prototyping.
Jaclyn is a designer-maker and industrial design lecturer at RMIT University. With a deep passion for making Jaclyn's multidisciplinary practice has a strong focus on narrative, materiality, and fabrication. Forever inspired by the prospect of new material knowledge and processes, her work inspires creativity and intrigue. Jaclyn's has teaching and making experience across; slip casting, jewellery, batch production, object design, fabrication, 3D modelling, and design research. She believes that the very act of making and the inherent understanding of "imperfection" that comes with it, is instrumental to her considered and unique approach to the design process.
Dr Mehrnoush Latifi Khorasgani
Mehrnoush is a lecturer and researcher at the School of Architecture and Design Swinburne University. Her research focuses on the design of smart skin to study potential impacts of surfaces on microclimates and design of creative responsive skins for buildings, using computational design and digital fabrication techniques. Her creative practice, research and teaching spans the fields of architecture, virtual and augmented reality, thermal comfort and microclimate design. Her research interests focus on the design with, and for, microclimates.
Bin's practice is based in jewellery making, offering the viewer/wearer a sensory engagement and an experience of the artefacts of the built environment. Though attempting to understand the complexities of the world in which we live, Bin's jewellery seeks to reveal connections between the body, the built environment, and the digital-making environment.
"Through making jewellery, I apply spatial thinking to engage in contemporary discussions relating to the role of digital technologies in material culture, and the relationship between the maker and the machine. It is through these technologies that the complexity of these relationships can be revealed."
Bin Dixon-Ward brings a distinctive lens to contemporary jewellery and a new way to understand and engage with the urban fabric and the role of digital technologies in jewellery.
Arthur is a designer passionate about exploring emerging technologies in virtual & augmented reality (VR/AR) and how they can be integrated into the real world. A passionate woodworker, Arthur blends his experience with Digital Design techniques to enhance traditional woodworking practices. Arthur's design expertise concerns Computer-Aided Design and manufacture (CAD/CAM) and VR where he is commencing postgraduate studies within the School of Engineering at RMIT University. During the last 10 years, Arthur has been a co-director and lead designer of a custom wooden boat plans business conducting R&D, designing, and selling plans using CAD and online business platforms.
Aaron is an industrial designer with a passion for creative problem solving. He has experience in Accessibility Design and CAD/3D modelling and a deep love for automotive design. A 2021 graduate from the RMIT, Industrial honours Design program (Honours First Class). Aaron was the National Winner of the 2021 James Dyson Award (Australia) for his work on the LUNA Modular AFO an Ankle Foot Orthosis (AFO). A system for children with Hereditary Spastic Paraplegia (HSP).
Mengke is a multidisciplinary designer. With a background in product design and graphic design, she worked as a research assistant at the Tsinghua University. She recently graduated from RMIT University's with Master of Design Innovation and Technology (MDIT) as a Valedictorian. Mengke is a curious explorer and observer who aims to collaborate with researchers from different backgrounds and to integrate design into different contexts.
Mengke Lian's Syne is part of the Safety Sensescaping research project led by Dr Olivier Cotsaftis at RMIT University School of Design. Safety Sensescaping is supported by Peninsula Health and WorkSafe's WorkWell Mental Health Improvement Fund.
Jake is a recent honours graduate of the Industrial design program at RMIT With a background in cabinet making. Jake's hands on experience creating unique, custom-designed cabinetry, and precision joinery brings a keen eye for detail to his industrial design work. With a keen eye for photography and illustration, he incorporates his passion for running, cycling and the outdoors into many of his projects. Much of Jake's work reflects these pursuits both through his design philosophy and process.
Cameo is a recent graduate from RMIT University's Bachelor of Industrial Design (Honours). A passionate product/ service / systems designer Cameo's work provides human-centred solutions that are both innovative and well-considered. Her recent project Grow is a project focusing on maternal mental wellbeing and human connections. The service design includes a pair of smart rings and an assistive app that accompanies expectant parents when they are transiting into parenthood. Cameo believes that successful design outcomes are not only practical but also deliver engaging experiences. With a great interest in interaction design and design for wellbeing, she is exploring possibilities in emerging human emotions with tangible things.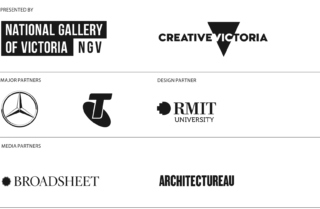 Melbourne Design Week and the Victorian Design Program are initiatives of the
Victorian Government
. The NGV Department of Contemporary Design and Architecture is generously supported by the
Hugh D. T. Williamson Foundation
. Creative Victoria and the NGV acknowledge the traditional owners of the land on which Melbourne Design Week programs take place, and pay our respects to their elders past and present.
This exhibition is displayed in the RMIT Design Hub window and will be viewable 24/7.
📍 RMIT Design Archives (Window Exhibition), 154 Victoria St, Carlton VIC 3053